Digital transformation involves not only managing and improving existing business processes, but also innovating and building for the future. It can require the development of hundreds to thousands of new applications in an organization. Using traditional approaches, each of these applications could take months or years to build, and by this time they may no longer even be relevant in today's rapidly changing market. This then results in a waste of time, money and resources. Digital transformation requires a new approach to building software, and this is where Five comes in.  
Build Applications Faster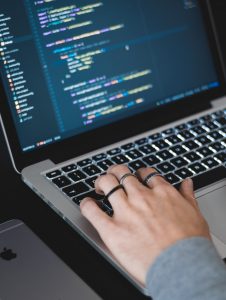 Companies today are adopting new technology to accelerate application development. IDC predicts that by 2023, enterprises' ability to rapidly develop digital innovations will be a core competitive requirement. Five allows developers to quickly build and rapidly iterate software solutions. By using pre-built application components and giving developers the option of working in no, low or full code, Five speeds up development and increases the productivity of developers. This then allows for the rapid creation of new software solutions. And when market expectation or requirements inevitably shift, these solutions can also be quickly adapted. Fast, innovative and flexible application development is essential to remain ahead of competition today, and Five helps you deliver this.  
Meet Your Business Needs
Companies also need to be able to develop unique software solutions that meet their business needs. Businesses need platforms that let them create software that fits their business and current IT landscape, instead of using pre-built solutions that make them change how they operate. These solutions also need to be different to what their competition uses. By giving developers the ability to create or edit applications with full code, Five lets you build solutions that are uniquely suited to the business, and separate you from your competition.  
Help Your Developers Do More
Application Platforms as a Service (aPaaS) focus on how to help professional developers and make their jobs easier, and Five is no exception. To facilitate digital transformation, developers need a platform like Five that gives them more power and control, and allows them to build creative applications quickly and more easily. This frees up developers to focus on customization and innovation, which then adds more value to the business.  
Spend Less Time On Maintenance
How well applications are built and maintained can be important for the success of digital transformation strategies. Being an aPaaS means that Five provides the infrastructure on which the application is built. This is instead of companies building and maintaining it themselves, which can take a lot of time, resources, and money. With Five, developers are able to focus more on innovation, rather than keeping the lights on.  
Choose Five As Your Platform
For digital transformation, organizations need a platform that delivers on speed, reliability, security, and performance. They also need a platform that gives developers the freedom to code as much or as little as they want. This is what Five does.
---
TL; DR: Why You Should Choose Five As Part Of Your Digital Transformation Strategy
Digital transformation requires businesses of all sizes and from every industry to build custom software faster. With low-code, the software engineering process can be standardized and custom software can be produced faster. This, in turn, can help accelerate organization's digital transformation.