Cyberport Start-Up & Low-Code Solution Provider Five Signs Memorandum of Understanding With Ricoh Hong Kong
Five Software Limited, a 2021 Cyberport incubatee, is pleased to announce it has signed a Memorandum of Understanding (MoU) with the Hong Kong office of the Japanese multinational company Ricoh.
The Hong Kong office of Ricoh is the market leader of smart workplace solutions and services for clients in Hong Kong and Macau, and Five is a natural partner with its capability to rapidly build and deploy cloud-native, custom business applications.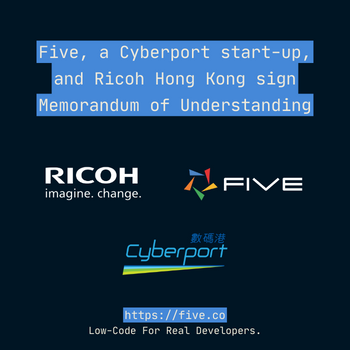 The signing of the MoU resulted from the industry partnerships that Cyberport helps foster between its incubatees and corporates in Hong Kong through its mentorship program. The mentorship program, which is additional to the financial assistance Cyberport provides, assigns a seasoned business professional as a mentor to each incubatee for guidance, training, and advice.
Five's mentor, Ricky Chong is Ricoh's Senior Director for Sustainable Growth in Hong Kong. After an initial meeting with Five's Founder Mark Kefford (CEO) and Co-founder Dominik Keller (COO), Ricky Chong encouraged the Five team to present their solution to Ricoh Hong Kong's IT team led by Ricoh HK's General Manager for IT, Danny Poon.
Ricoh's team of software developers evaluated Five's capabilities for rapid application development and was impressed by the speed, standardization, and maintainability of software applications built with Five resulting in the MoU to progress discussions.
The collaboration between the two parties now aims to introduce low-code technology to Ricoh Hong Kong's IT and application development teams. First use cases have already been identified and the parties seek to deepen the collaboration in 2023.
Alice So, Head of Entrepreneurship of Cyberport said, "Cyberport is glad to receive this good news that Five Software and Ricoh formed such close partnership via Cyberport Mentorship Services. It is a comprehensive one-stop platform where our start-ups can seek professional advice on areas from company positioning, business model, and go-to-market strategy to investment. Together over 80 industry experts on board with strong industry domain knowledge and global experience creates synergy on partnership and business development, driving a vibrant ecosystem in Hong Kong and the world."
Danny Poon, General Manager for Information Technology of Ricoh Hong Kong said, "We are impressed by the maturity of the Five low-code solution, and by the platform's capability to support rapid application development in different programming languages. As an enterprise IT team, we are most interested in increased speed of delivery, increased standardization, and increased maintainability of IT systems. Based on our evaluation of Five, we believe that the solution can fulfil these three criteria, and we are excited to evaluate a more in-depth partnership with Five and its team."
Dominik Keller, Co-founder, and COO of Five said, "As a start-up, we very much appreciate the opportunity to present and demonstrate our low-code solution to established corporates. This is an essential step in our early growth, as we continuously seek feedback from seasoned IT leaders and software developers. We would like to thank Cyberport for admitting us into the program, Alice So for encouraging us in seeking partnerships, and, of course, Ricky Chong for being our mentor. We are proud to have signed an MoU with Ricoh Hong Kong's IT team and its General Manager, Danny Poon, as it confirms that Five's low-code approach to custom software development can meet the requirements of enterprise software teams."
---
About Five
Five is a low-code start-up with offices in Hong Kong and Brisbane, and a member of Cyberport's Incubation Program (CIP). Its low-code solution helps software developers to rapidly develop and deploy custom business applications by providing pre-built building blocks that can be mixed with full-code almost anywhere.
For more information visit https://five.co or email hello@five.co
About Ricoh (Hong Kong) Limited
Established in 1963, Ricoh (Hong Kong) Co., ltd. focuses on digital services and office solutions. Entering the era of digital transformation, Ricoh's Four Areas of Expertise includes Hybrid Workplace, Workflow & Automation, Cloud & IT Infrastructure, and Cybersecurity. Ricoh has been actively advocating corporate evolution in recent years, accompanied by digital services and four customer values: Simplifying Complexity, Uncovering Hidden Opportunities, Overcoming Obstacles, and Embracing Diversity, bringing people and technology together, so companies can focus on forward.
For more information visit https://www.ricoh.com.hk
About Cyberport
Cyberport is an innovative digital community with around 800 on-site start-ups and technology companies. It is managed by Hong Kong Cyberport Management Company Limited, wholly owned by the Hong Kong SAR Government. With a vision to be the hub for digital technology, thereby creating a new economic driver for Hong Kong, Cyberport is committed to nurturing a vibrant tech ecosystem by cultivating talent, promoting entrepreneurship among youth, supporting start-ups, fostering industry development by promoting strategic collaboration with local and international partners, and integrating new and traditional economies by accelerating digital transformation in public and private sectors.
For more information, please visit www.cyberport.hk