OutSystems vs. Mendix: Clash of the Low-Code Titans
Who Said Europeans Cannot Compete In Software?
Name a large European enterprise software company.
Usually, the first (and oftentimes, only) answer you get to this question is SAP, the German enterprise resource planning (ERP) software giant.
As of the time of writing, SAP's market capitalization of US$100bn makes it the ninth most valuable software company in the world. But it takes a long time (and a much lower market cap) until the next global, European software champion appears on the list. (Interestingly, Schneider Electric is ranked 12th, but I would not consider them a software company. More on this later).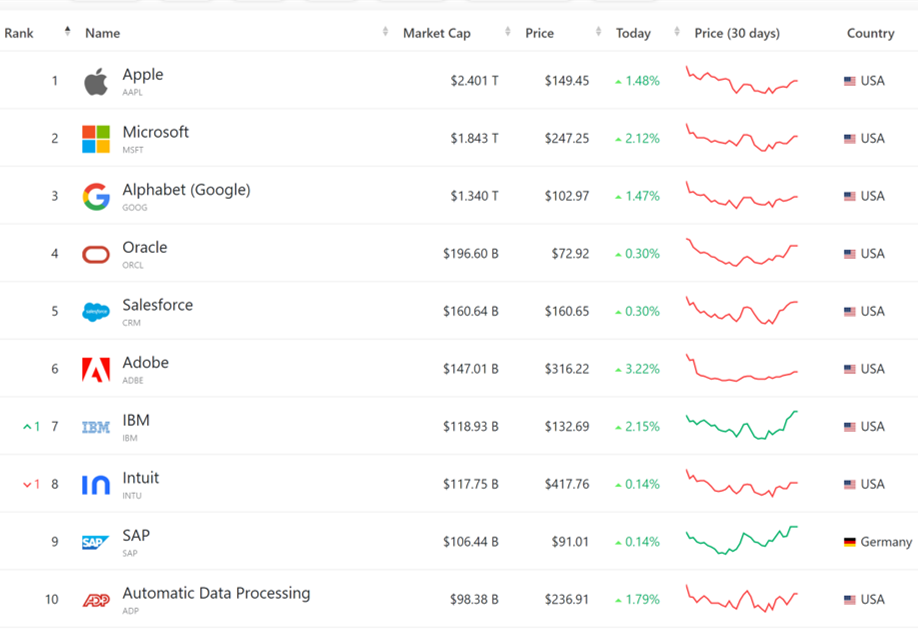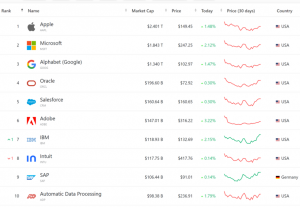 Yet, beyond SAP, there are other European software champions: not publicly listed, but champions nevertheless. One software category, in particular, is dominated by two companies founded in Europe: enterprise low-code software.
What Is Enterprise Low-Code Software?
Typically, large non-software companies all face roughly the same problems when it comes to digital transformation and building software in-house. These problems are:
A large backlog: A long list of bugs, fixes, technical debt, and new requests that the enterprise IT team has no hope of ever taming.
A talent shortage in software development and other technical roles. This is typically due to three reasons: first, there is simply no talent in the labor market. Second, pure-breed tech companies and well-funded start-ups have driven up salaries to levels that a non-software company cannot afford to pay. Third, talented software engineers do not want to work at non-software companies.
A plethora of legacy IT systems: enterprises often rely on hopelessly outdated systems and written languages that only a few software developers know, such as COBOL.
Competitive pressure: traditional business models are under pressure from digitally native companies that disrupt the value chain. Examples are e-commerce vs. brick-and-mortar retail; fin-tech vs. traditional banks; or app-powered, gig worker companies vs. traditional service providers.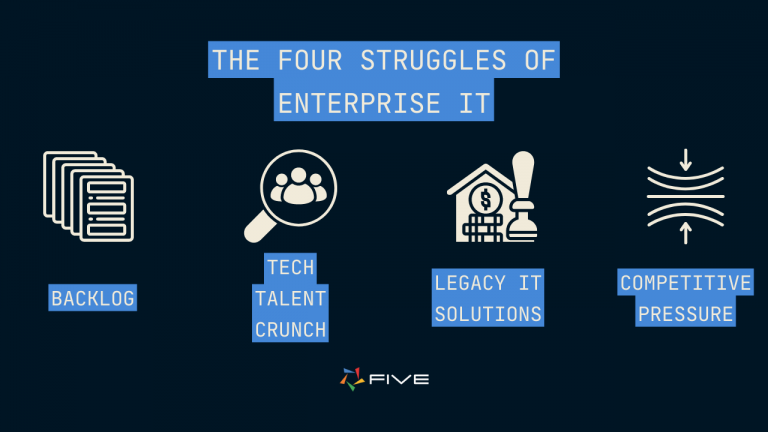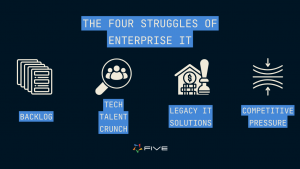 In summary, many non-software companies want to be software companies. But they simply do not have the people, skills & resources to be software companies.
What are possible solutions to these problems?
Solution 1: Acquire
Remember Schneider Electric from our list of the most valuable software companies above? Here's why Schneider Electric is not a software company: Schneider Electric was founded in 1836. Their history is longer than Google's, Salesforce's, and Microsoft's combined. Their core business is not software. It's hardware. Why then do they appear on a list of the most valuable software companies?
They have successfully acquired several large software companies in the past, such as Aveva or RIB Software, two European industrial and construction software players. Schneider Electric is pivoting towards becoming a software company through its acquisitions.
The disadvantage of acquisitions is that they are risky, expensive, and difficult to execute. First, there are only a few software companies with technology (and intellectual property) worth acquiring. Secondly, there is a good chance that a tech company has acquired these companies already. Third, the cultural fit between a fast-moving software company and a slow-moving non-software company can lead to a lot of friction. And last, and most importantly, acquisitions are expensive. Not every company can afford to buy a technology company. Especially not, if their existing business model is already under pressure from up-and-coming digital-first companies.
Solution 2: Enterprise Low-Code Software
If acquisitions aren't possible or practical, the next best solution is to strengthen in-house software development capabilities. This can be achieved by hiring more people. But, as mentioned: this is easier said than done. Unless a non-software company offers very competitive salaries and an attractive career path, few software developers will be enticed to work for them.
This then only leaves one last solution to the four problems mentioned above: better development tools. And that is where low-code software comes in.
Enterprise low-code vendors present a solution to the four problems mentioned above: their solutions accelerate application delivery. They allow non-software companies to innovate at a pace that puts them on par with their digital-first competitors, without having to hire more talent. Low-code solutions make heads count, alleviating the pressure of increasing headcount.
OutSystems & Mendix: The Two Leading Enterprise Low-Code Vendors
Not many people would associate the Netherlands, a country of just 17 million, and Portugal, an even smaller country with just 10 million inhabitants, with successful software innovation.
But in the low-code industry, these two countries punch above their weight, all thanks to two companies: OutSystems, originally from Portugal but now headquartered in the United States, and Mendix, headquartered in the Netherlands but since 2018 part of German industrial giant Siemens.


OutSystems and Mendix have accomplished something a lot of software companies can only dream of: they are internationally recognized leaders in their industry, the market for enterprise low-code software. They have successfully outdone (and continue to outdo) competitors such as Microsoft, Oracle, and Salesforce. And they continue to push the boundaries of what enterprise low-code software solutions are capable of.
Their technical & thought leadership is regularly recognized by all of the large enterprise IT consultancies, i.e. Gartner and Forrester. Whether it's the Forrester Wave™ or the Gartner Magic Quadrant: OutSystems & Mendix usually rank on top.
They can even be credited with having started the entire low-code movement.
OutSystems was founded in 2001. Mendix was founded just four years later, in 2005. For comparison, Microsoft released PowerApps, its no-code platform only in 2015.
OutSystems' founder Paulo Rosado is one of the most prolific thought leaders in the low-code industry. Early on he recognized that businesses require custom solutions to complement their existing, off-the-shelf IT landscape. He considered these solutions to existing outside the core IT systems. Hence the company name: Outsystems.
Just like Paulo Rosado, Mendix's founding team, Roald Kruit, Derek Roos and Derckjan Kruit recognized the same problems: businesses required custom software, but it was too complicated, costly, and slow to build these solutions. Their company name comes from the idea that business-IT collaboration is a broken process that needs to be mended. Hence Mendix.
OutSystems & Mendix: How Are They Different?
As an enterprise IT leader, it can be difficult to figure out the differences between OutSystems and Mendix. After all, they both come highly recommended by Gartner and Forrester. Both have an impressive range of case studies, references and marquee clients. Both are operating globally. So, which one should you pick?
The best way to understand the differences between these two companies is to understand their vision for the future of software engineering.
OutSystems: Improve Developer Productivity
Let's start with Outsystems. This is Outsystems' website from 2004: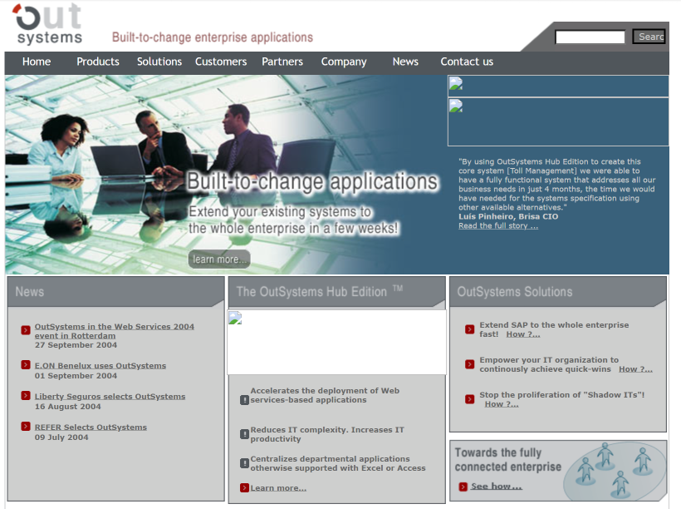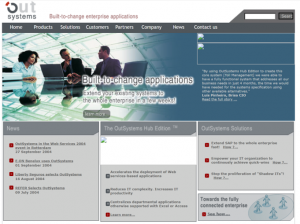 Their slogan back then: Built-to-change applications (pundits only came up with "low-code" many years later). It gets more interesting when we zoom in on one of the bullet points on the right side of the website. It says "Stop the proliferation of Shadow ITs":
"The term "Shadow IT" refers to groups providing information technology solutions outside of the legitimate IT organization. The existence of these solutions is due to users that either thinks that they can do things faster or better than the organization IT or because they can't wait for the IT response times."
Fast forward to 2021 and OutSystems' annual conference NextStep 2021. Here are a few soundbites from the conference's keynote speech:
"OutSystems improves developer productivity by 100x."
"Break through the boundaries of traditional software development."
"OutSystems improves the day-to-day life of developers."
"Deliver value to the business through technology."
What's the main message?
OutSystems is all about improving developer productivity. The company's main purpose, ever since its founding days, is to make the work of a professional developer easier and more productive.
This is not a big surprise, considering that OutSystems' founder Paulo Rosado is a trained software engineer. He studied Computer Engineering in Portugal and at Stanford in the 1980s and 1990s. He designed OutSystems to be the only (to my knowledge) low-code platform that generates code, rather than a proprietary definition of an application. This is something Outsystems likes to advertise heavily in their documentation, even though there is a debate in the OutSystems user community on whether the generated code is human-readable and thus maintainable. Yet, the underlying idea of OutSystems, i.e. a platform that generates code that humans can see and touch gives software developers who like to stay in control, additional comfort.
In short, Outsystems is all about a better developer experience and improved developer productivity. Let's move on to Mendix next.
Mendix: Bridge The Business-IT Gap
This is Mendix's website from 2006: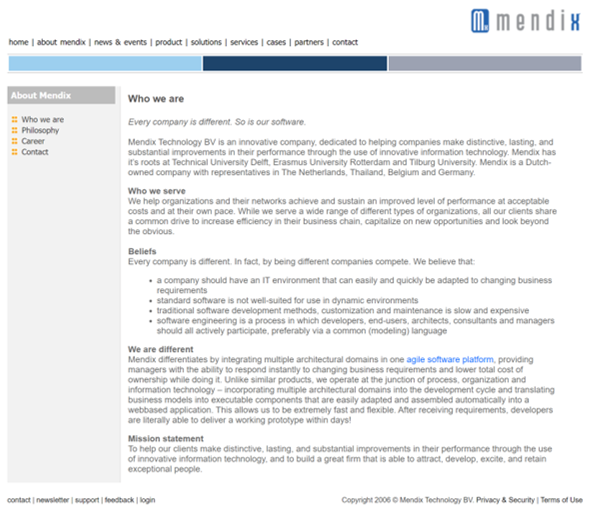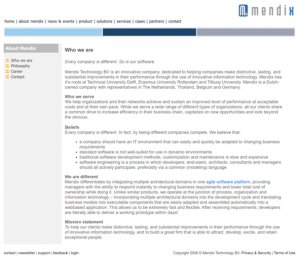 Towards the middle of the page, under the sub-heading "Beliefs", it says:
"We believe that software engineering is a process in which developers, end-users, architects, consultants, and managers should all actively participate, preferably via a common (modeling) language."
Again, let's forward to 2021, and look at a few soundbites from Mendix's annual conference. In the keynote address, the main messages are:
"Mendix democratizes application development"
"We started Mendix to bridge the business-IT gap"
"Everyone is a maker."
"We're the only provider with purpose-built tools for every kind of developer"
Just like OutSystems, Mendix has been staying true to its beliefs from day 1: whereas OutSystems is a company founded on the belief that central IT must retain control over a more efficient development process, Mendix wants to make software development accessible to everyone.
In line with its mission, Mendix's approach to low-code development is different from OutSystems' too. Mendix does not generate code. Instead, the Mendix platform is a model-driven approach to application development.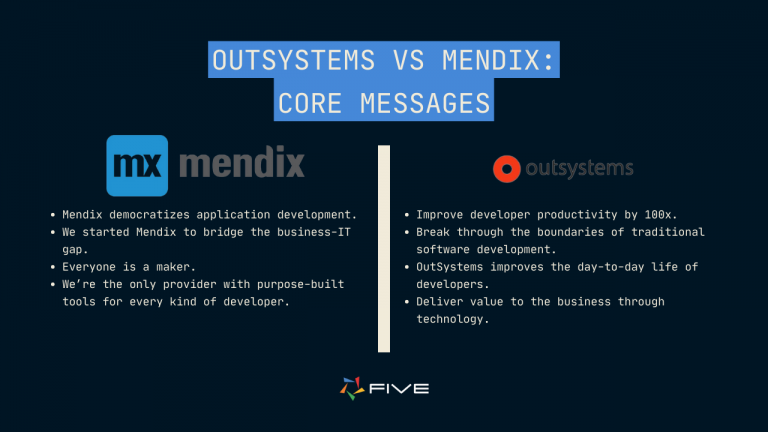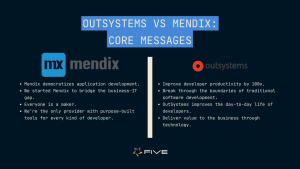 Increase Developer Productivity Or Build Fusion Teams: Which One Is The Right Approach?
OutSystems and Mendix share a common denominator: both are general-purpose low-code solutions, designed for enterprise application development. Both present a solution to the four enterprise IT problems described above.
But the solution that they present could not be more different: OutSystems is a solution designed to increase developer productivity. Mendix is a solution designed to bridge the business-IT gap. OutSystems wants developers to stay in control. Mendix wants fusion teams of domain experts and software developers to jointly develop applications. OutSystems focuses on software developers. Mendix focuses on citizen developers.
Now that we understand the difference between these two low-code behemoths, the next question is: which one is the better approach?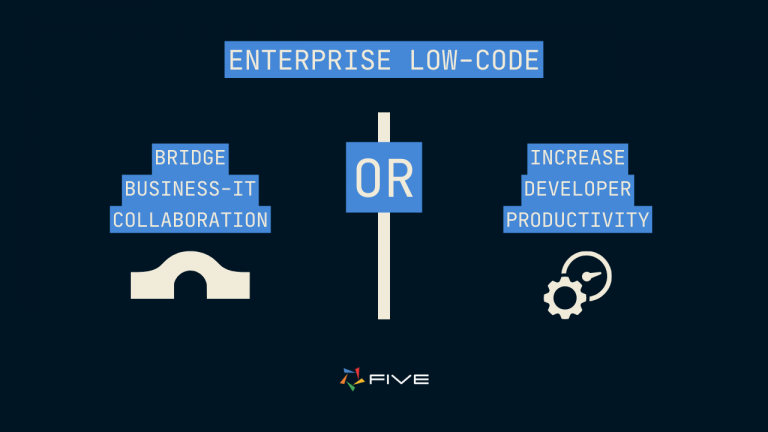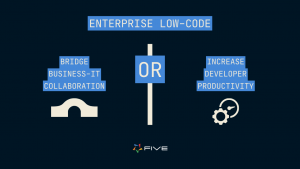 The jury is out, and currently, it seems both approaches have merit with a slight advantage for OutSystems.
Siemens acquired Mendix in 2018 for US$730 million in cash, a big and meaningful acquisition by European standards. Yet, as per Siemens' annual report 2021, Mendix was operating at a 73m EUR (approx. 73m US$) net loss in 2021. It seems that, at least financially, the acquisition has not quite paid off yet (though arguably, operating at a loss to achieve faster market growth may be part of the company's business plan, so it is not clear whether this is an intended or unintended loss). Mendix also recently replaced co-founder and CEO Derek Roos with a home-grown talent from Siemens, Tim Srock, whose background is in finance, rather than in software.
OutSystems, on the other hand, is not publicly listed yet, nor has it been acquired. Its founder Paulo Rosado is still very much in control of the company. It seems the company is eyeing an IPO in the future. In its last funding round in 2021 the company raised US$150m at a US$9.5bn valuation. To my knowledge, this makes OutSystems to most valuable, private low-code company.
By headcount, Outsystems is the larger of the two companies. According to LinkedIn, it employs approximately 2,000 people, compared to Mendix's approximately 1,300 people. Assuming LinkedIn followers are a proxy for technology adoption, Outsystems also appears more successful. Its LinkedIn page has more than twice the number of followers (110,000) compared to Mendix's 50,000 followers.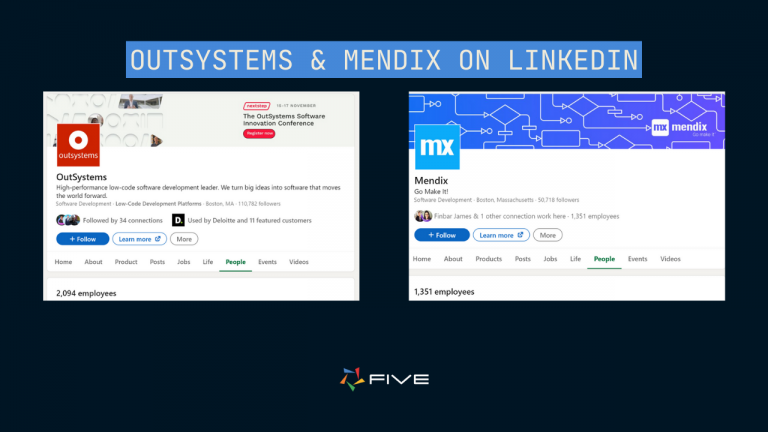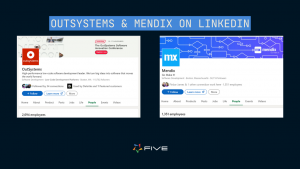 As neither company publishes financials, it is difficult to prepare a more detailed financial comparison. But it appears that OutSystems has achieved a much higher valuation per headcount than Mendix, and it seems to have a larger user base. It will be interesting to see if the company will go public anytime soon.
Conclusion
Code generation or visual development? Central, highly-productive IT or decentralized fusion teams? Make software developers more productive or democratize software development? What is the future of custom app development? OutSystems and Mendix present two different visions for the industry.
What are your thoughts? Is increasing developer productivity or building fusion teams the right approach? Are they even mutually exclusive?
Outsystems vs. Mendix: Update 2023
"Cloud Startup OutSystems' $9.5 Billion Valuation Is Slashed In Half After New Funding Round", wrote Forbes on January 11, 2023.
What had happened? After a successful Series E raising in February 2021, Outsystems tapped its investors again and raised another US$230m in late 2022. The new raise happened at a post-money valuation of US$4.3bn, a substantial decrease from its previous funding round, which took place at a valuation of US$9.5bn.
Two things are remarkable about this development:
The drop in valuation. Founders and investors are typically very reluctant to reset valuations and accept down rounds. After all, a high valuation is a sign of pride, confidence, and belief in a company's future. However, even high-flying start-ups and privately held companies cannot escape general market sentiment.
Outsystems' 2021 raise was timed perfectly. Equity markets for tech stocks were more than frothy. Valuations and multiples for technology stocks were very high, fueled by cheap money and the belief that Covid had permanently accelerated companies' digital transformations. But by the end of 2022, the world had changed. Case in point: Appian, which is a close competitor of Outsystems and one of the few publicly listed low-code companies.
On February 12, 2021, Appian stock was worth US$233.99. By the end of 2022 (30 Dec 2022), its stock price had decreased to US$32.56. It would have been difficult for Outsystems to escape investors' souring mood regarding tech stocks.
The size of the funding round. The timing of OutSystems' new funding round was certainly unfortunate. But the size of the funding round is very impressive. Raising US$230m, OutSystems has a substantial war chest that enhances its ability to compete in the low-code industry and drive further growth. What will be interesting to observe is how long this money will last and when the company will need to tap investors again.
Financial data is hard to come by, but according to Forbes, the company operated at a loss in 2021: "Meanwhile, the company, which turned a €6 million operating profit in 2020, saw a €74 million loss in 2021." For comparison, according to Siemens annual report 2022, Mendix operated at a loss of €96m.
If enterprise customers were concerned about OutSystems' long-term viability as a private company, its latest funding round should clearly alleviate these concerns.
2023 will be a pivotal year for both OutSystems and Mendix, as investors will want to see returns on their investments. Both companies have access to funds: OutSystems from its investors, Mendix from its owner, Siemens.
OutSystems vs. Mendix: the clash of the low-code titans will continue!