Step 4: Using Five to Deploy the Application to the Cloud
Five is tightly integrated into AWS and automates deployment to the cloud. Deployment to any of three cloud environments (development, testing, or production) happens in a single click. If you love the convenience of Amazon's one-click buy, you'll love the simplicity of Five's one-click deploy.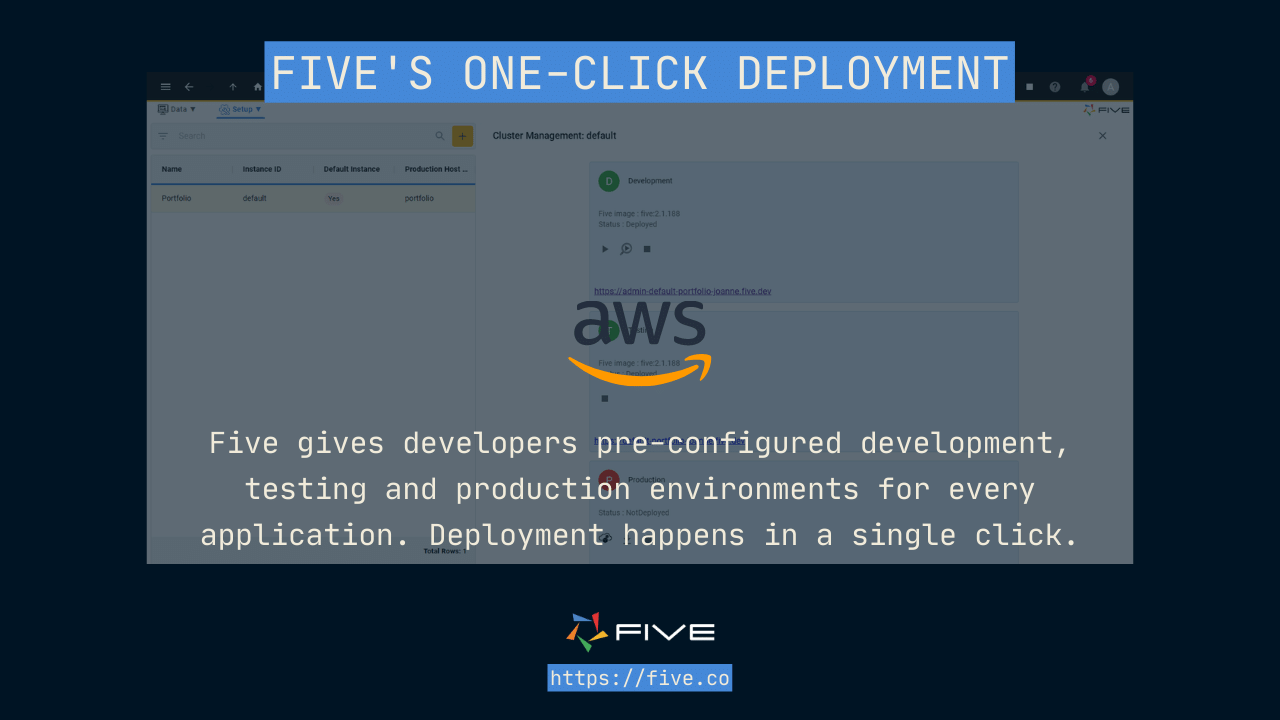 Developers can deploy applications built with Five to three application environments: development, testing, and production. This means that by the time an application reaches its end-users, developers can confidently deploy their software, as any application would have gone through development and testing before being pushed into production.
The development environment is designed for developers to preview and test their applications and is completely isolated from the other environments. Development is primarily used for sandboxing.
The testing environment, which is completely isolated from both development and production, is where end-users can test new features and provide feedback to developers.
The production environment, which is completely isolated from both development and testing, is where all live services are deployed. It is where your end users access the final application. Production is also supported by a dedicated, fully-provisioned MySQL database.
In addition, all applications built with Five are containerized, using Kubernetes for container orchestration.
Other Useful Application Development Features in Five
The management of large codebases can get very complex. That's why Five incorporates software development best practices inside its IDE.
For example, Five automatically keeps track of all changes that are being made to an application by its developers, or by end-users, through application logs. There is a full audit trail of who changed which part of the application and when. This audit trail is easily accessible from inside the development environment and allows for filtering by date and person. So if the new junior developer broke prod (again!), it's something that you can easily figure out by checking out the application logs.
Five also has a built-in debugger, called the Five Inspector, that lets developers observe what code is executed when the application runs.
Conclusion