Five's Low-Code, Virtual Hackathon 2023 Is Open for Registrations
Calling all software developers to join Five's low-code application development hackathon for beginners, novices, or professional coders.
Back-end, front-end, or full-stack developers: It's time to code. Build your best application using Five's low-code IDE.
---
Thanks for joining our Virtual Hackathon!
Five's first virtual hackathon has ended. A big thank you to all the software developers from all over the world who signed up and participated in this app development challenge! 👏🏻
Six awesome winners (one grand prize winner, and five runners-up) were chosen from the submissions. Check out who the winners are on https://five.co/hackathon!
And if you're keen to join our next hackathon, then don't miss the chance and sign up at https://five.co/hackathon
---
UPDATE: 5/5 – The Hackathon Is On!
Visit https://five.co/hackathon to sign up and secure your spot.
---
Key Facts:
Virtual Hackathon
Submission Deadline: June 9th, 2023
The Challenge: Use Five's low-code IDE to build the best app
Prizes:

First-prize winner gets US$5,555
5 Runners-up get US$555 each
All valid submissions enter a lucky draw for an iPhone 14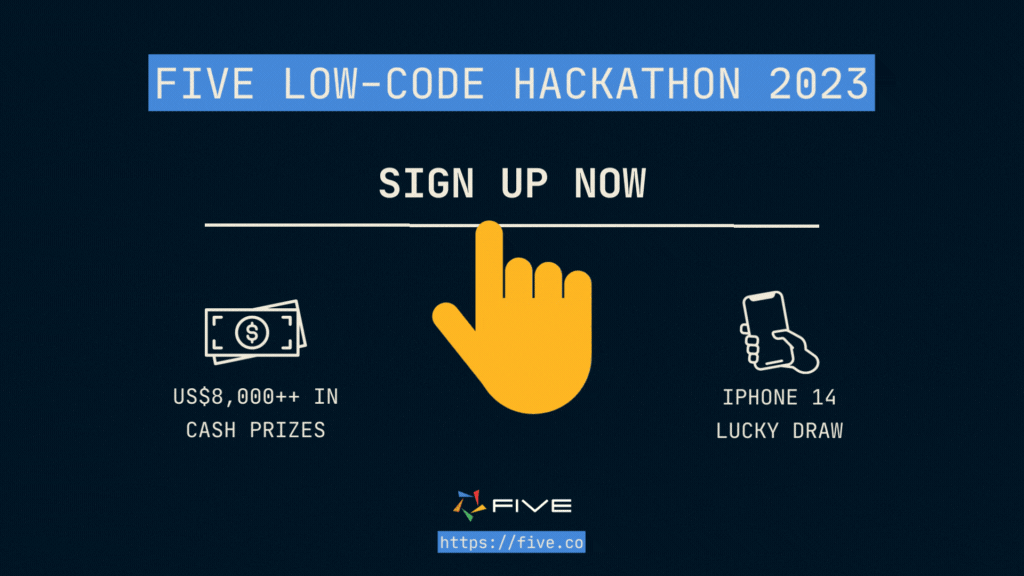 The 2023 Five Low-Code Hackathon will kick off on the 5th of the 5th (May 5th, 2023) and is open for registration from today! Join this exciting upcoming hackathon to show off your application development skills!
Here's What You Can Win
A total of more than US$9,000 in cash and prizes is up for grabs. On top of the cash prizes, every participant with a valid submission enters a lucky draw to win a brand-new iPhone 14 (if you prefer Android: talk to us)!
And the best thing is: it is free to participate. All you need to participate is a computer, curiosity, and creativity. Read this blog post for everything else that you need to know about our upcoming hackathon.
---
Calling All Software Developers: Join Our Upcoming Virtual Hackathon & Build Your Best App with Low-Code
Show off your application development skills by using Five's low-code IDE that gives you a MySQL database, an AI-assisted full-code editor for JavaScript and TypeScript, and a whole lot of prebuilt features to make it easier & quicker to build release-ready web apps.
Build your best app on top of Five and become the best application developer using Five.
1. Where Do I Sign Up?
Visit https://five.co/hackathon to register today!
2. What Can I Win?
There will be a total of more than US$9,000 in prizes: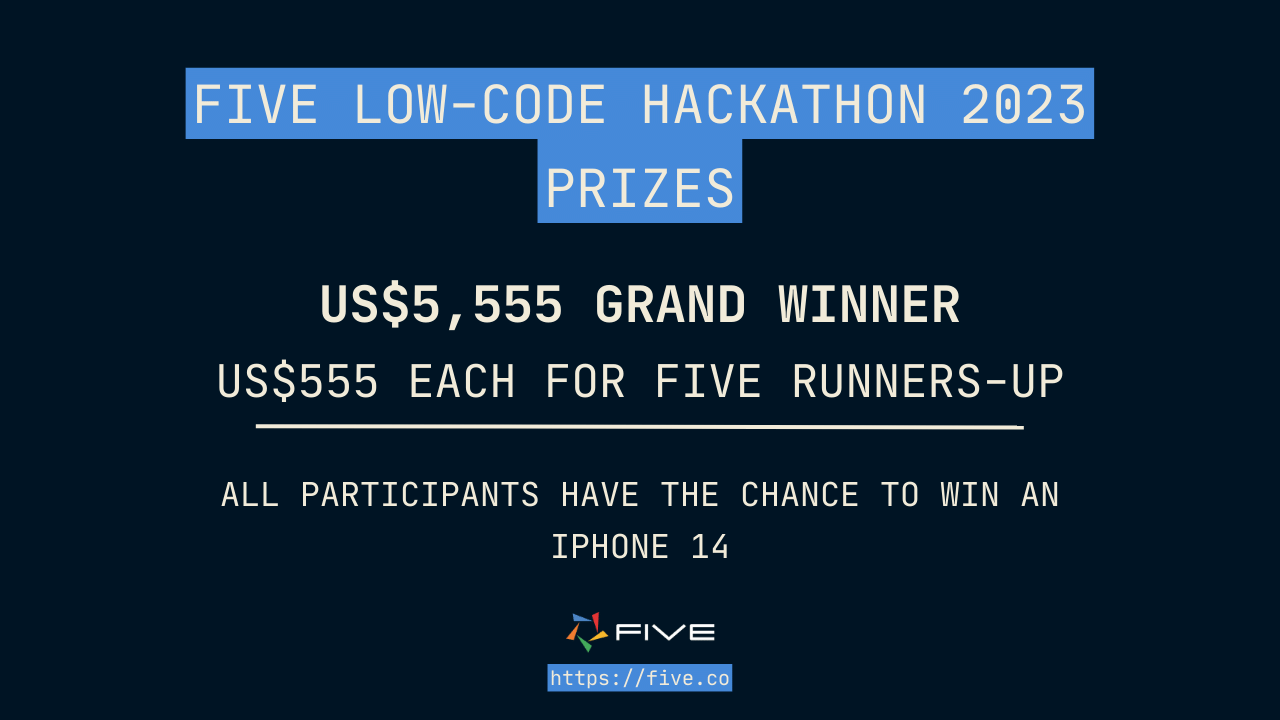 The best submission gets a cash prize of US$5,555.
2nd Prize: US$555.
3rd Prize: US$555.
4th Prize: US$555.
5th Prize: US$555.
6th Prize: US$555.
Every valid submission also has the chance to win an iPhone 14 in a lucky draw.
3. Who Can Participate In This Virtual Hackathon?
Anyone with interest in software engineering is welcome to participate. Individual or team submissions are all accepted. You must not be a current employee of Five.
4. What Skills Are Required to Participate? Is This Hackathon For Beginners or Professionals?
Both beginners and professionals can participate in this hackathon: this hackathon is a hackathon for beginners as well as application development pros. The hackathon is open to all skill levels but an understanding of SQL and JavaScript is definitely a plus!
But even if you do not build the best app, or make it into the prize categories, you can still win! With a valid submission, you enter a lucky draw for an iPhone 14.
5. How Do I Submit My Application? What should be included?
There are three ways to submit:
Recommended: Create a short demo video of your application (5 to 8 minutes max) and upload it to YouTube. The video title should be "Five Hackathon 2023: <submission name>". Share the YouTube link with us by email: hello@five.co
Write an article about your application on Medium. The article title should be "Five Hackathon 2023: <submission name>". Make sure to tag @dom_five in your Medium article. Share the Medium article link with us by email: hello@five.co
Don't have a YouTube or Medium account? Email us your submission to hello@five.co. Make sure to include a presentation with your application.
Shortlisted participants will also be required to share their application definitions with us.
In case you'd like to get some guidance on successful submission, check out these four tips on how to win a virtual hackathon. Bear in mind that we want to see what you've developed and how you've developed it using Five. Screenshots, videos, or code samples are a big plus!
6. Do I have to Pay to Participate In This Virtual Hackathon?
No! It's free to participate. The only thing you have to do is download Five, for free, onto your computer to start building.
7. What Are the Judging Criteria?
Submissions will be judged based on three criteria:
The usefulness of the application: does the application solve a real-world problem? Note that Five is best used to build data-driven business applications. Think lead gen system, dashboards, inventory management, admin panels, CRMs, business partner portals, etc.
Use of Five's features: how well does the application use Five's features?
Code: show off your coding skills in SQL, JavaScript, TypeScript or CSS to extend your application beyond Five's out-of-the-box features.
8. I'm Keen to Participate. What Can I Build with Five?
Five is an online database application builder. To get inspired, check out this video of our Product Advocate Pranoy building a simple CRUD application on top of Five.
This video is obviously just a quick glimpse into the workings of Five. Any kind of multi-user web application for storing, retrieving, visualizing, or processing data can be built with Five. Beyond CRUD applications, you can build pretty much anything and we are looking forward to seeing your ideas!
9. How Do I Stay Up to Date with the Virtual Hackathon?
We will release an official kick-off video on May 5th (or the 5th of the 5th. We love our Fives), that covers everything you need to know to participate in the virtual hackathon. To watch the video, go to our official hackathon website!
Also, make sure to follow us on Twitter to get regular updates about the hackathon!
10. Are There Any Other Upcoming Hackathons?
This is the only hackathon we are organizing in 2023 – so far!
So, ask yourself: If you had one shot or one opportunity to seize everything you ever wanted, in one moment, would you capture it or just let it slip? 🎶
11. Important Hackathon Dates
5th of the 5h (May 5, 2023): Official kick-off webinar
June 9, 2023 (midnight, AEST): Submissions close
June 16, 2023: Five Virtual Hackathon 2023 results announcement. Winners will receive an email, and an official announcement will be published through our website.
---
What Is Five?
Five is a low-code development environment that helps software developers build and deploy custom online database applications faster. Using Five, developers can rapidly build release-ready software by using Five's prebuilt features, such as a hosted MySQL database, authentication, or access control.
Five also gives developers the option to use full code written in JavaScript, TypeScript, or SQL to extend their applications beyond Five's out-of-the-box functionality.
To get started, download Five for free from our website.
We also encourage you to watch our demo video:
What If I Have a Question About Using Five?
Visit our online community at https://five.org to post your questions about Five or get advice from other users. We also encourage you to use the forum to share your ideas, gather feedback and benefit from additional community suggestions as you begin making progress on your submission!
---
We can't wait to see what you build!
Happy coding!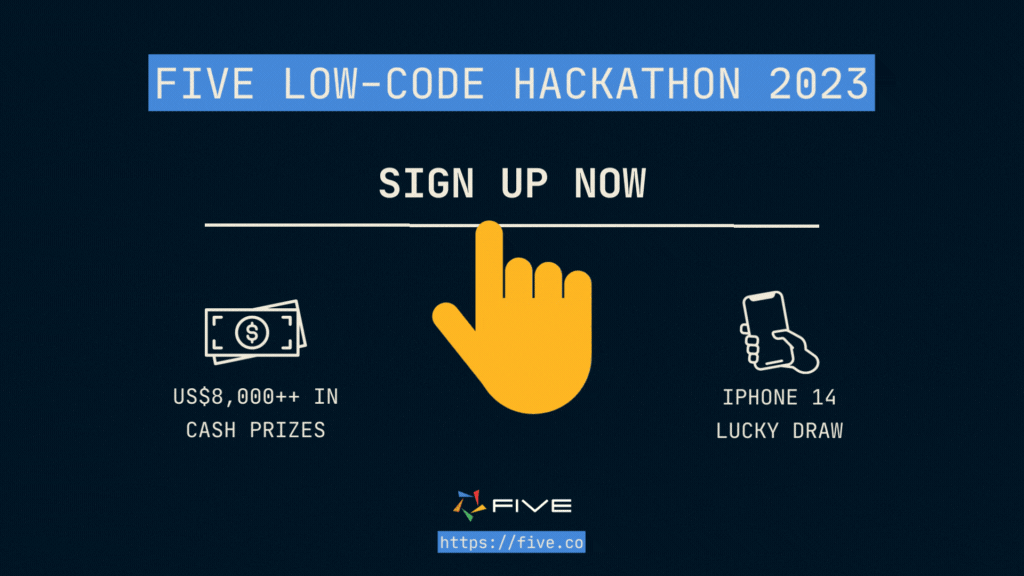 ---
The Fine Print: Please note that uploading any submission to the virtual hackathon constitutes the entrant's consent to give Five a royalty-free, irrevocable, perpetual, non-exclusive license to display such submissions in whole or in part, on a worldwide basis, and to incorporate it into other works, in any form, media, or technology now known or later developed, including for promotional or marketing purposes. The virtual hackathon contest is void where prohibited or restricted by law or regulation. Other terms & conditions apply.